Köpmanholmen - Sandlågan
In Köpmanholmen's harbour you will find a newly built cabin with toilet and shower. Outside fireplace. Camping is allowed. Drinking water is accessible.
Köpmanholmens havsbad is an excellent spot for you who are interested in sea-bathing. If you follow the trail eastwards you get to Hålviken. Car park, information board, tables and benches, outside toilet. From here the trail follows a path to Balesudden nature reserve. About 300 metres from the car park there is a wind shelter.
Balesudden with its 923 hectares is a relatively large nature reserve. It was established in 1985. Six kilometres of the High Coast Trail go through the reserve. There is also a detour of approximately two kilometers past Lake Balestjärn and on to Balesberget for a fantastic view. From here you can see large parts of the archipelago, from Skagsudde in the north to Ulvöarna in the south.
About 500 metres west of Balesviken there are beautiful caves and caouldrons that over the years have been carved out by the waves. In sörbalesviken there is an outside fireplace and toilet. Camping.
Balestjärnen is well worth a visit. It is a remarkable lake in many ways, much because of its clear, green water and position. It lies in a basin surrounded by acidic rocks (Nordingrå granite), still the water is almost alkaline! This is due to the surrounding shell gravel, i e fossilised mussel banks that serve to raise the pH value.
From Balesviken the trail leads you to Bodviken. Here you will find a cottage with wide beds, table and chairs. Stove. Outside toilet and fireplace. A good place for camping. Drinking water can be taken from the stream.
The trail then leads on to Sandslågan, the destination for this section. About 500 metres south of the car park (destination for this section) there is a wind shelter with table, benches and outside fireplace. Outside toilet.
Map of the section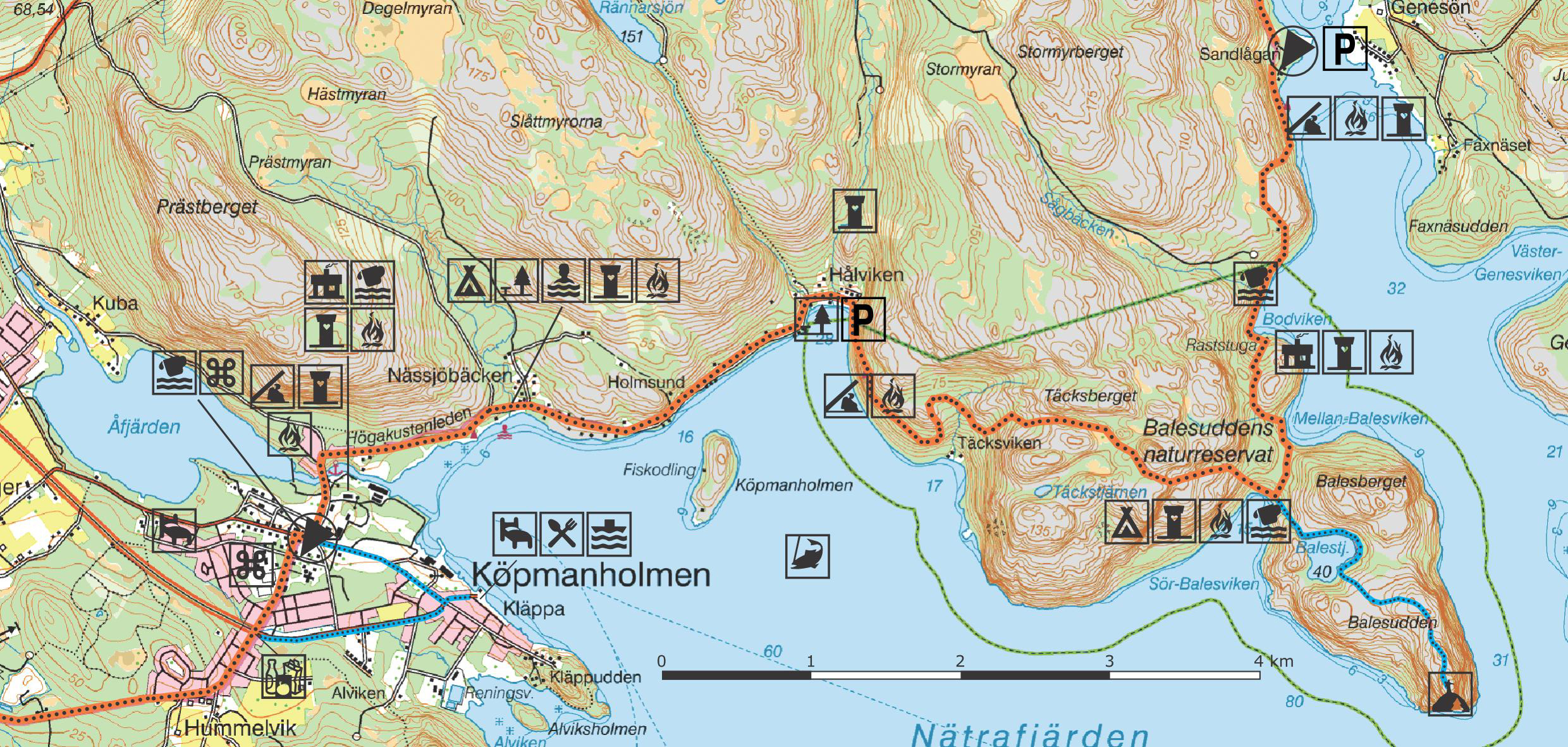 Total length
12,7 km
Difficulty
Demanding
Start position
End position
Terrain map
Lantmäteriet 699
Hiking guide
Can be ordered from here.
Activities and sights along the section
Balesudden nature reserve