Lövvik - Fjärdbotten
About two km from the start stage is the detour to Valkallens peak, 800 m from the trail. It is well worth your while. At the steepest parts closest to the top you will find some rops to help your climb. Valkallen is, as the name implies , an old vårdkasberg. Here you could light a giant bonfire to warn the local population from hostile invasions. The last time they burned in the area was in year 1721 when the Russians ravaged along this coast. The peak is 240 meters above sea level with a magnificent view, including Ångermanälven, the Höga Kusten bridge and Storön . The rest cabin at the top is open to visitors.
Further along the trail, at Halsviken, there is a picnic area with shelter and latrines . Even drinking water can be found here. Further north along Grönvik Bay is a short detour to Rödhällorna where you can clearly see the red rapakivi granite , the rock type that is so special for the area.
The goal for section 2 is Fjärdbottens fäbodvall at Häggnäset. It consists of three log cabins, each with two bunks and a larger timber building of approximately 35 m2 with long tables and benches. There is also a barbecue area, outdoor toilets and a guest harbour that can hold 15 boats. In total, 25 people can stay here under one roof. It is also possible to camp . Vallen is always open . However, no advance booking is possible.
Map of the section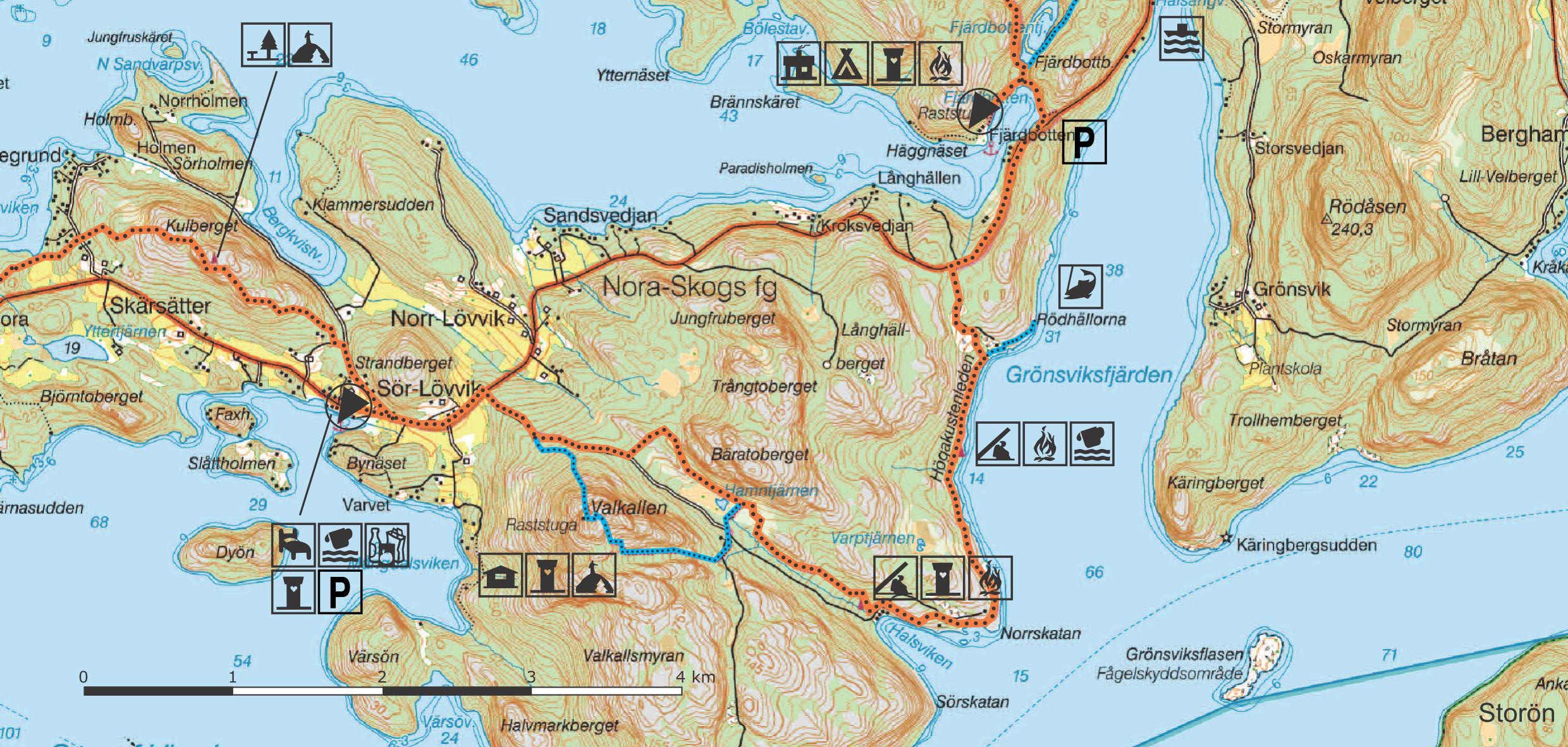 Total length
9,6 km
Difficulty
Normal
Start position
End position
Terrainmap
Lantmäteriet 691
Hiking guide
Kan beställas här
Stay along the section
Fjärdbotten, raststuga på Valkallen
Activities and sights along the section
Valkallen