Skuleskogen National Park
Hike through lush forests, deep canyons, cliffs and up to mountain tops. The national park offers not only beautiful hiking trails but also an exciting history about the geology and biology and gives you the answers to why this region of the world has the highest coastline in the world.
Due to covid-19
The cabins in the National Park will remain open. But due to the ongoing spread of the corona virus you are advised not to stay overnight. Enjoy daytime tours instead.
Staying in the huts together with others will be a risk for getting infected and help spreading the virus. You might not have cell-phone coverage and if you get ill, you may not be able to get help.
Where high meets low
Skuleskogen was established in 1984 as the 19th national park in Sweden. Nowhere else you will find a higher coastline than along the High Coast region. Typical for this national park is the red colored cliffs called "Nordingrågranit", the land uplift and the special pine forest between south and north. You reach the park by one of the three entrances.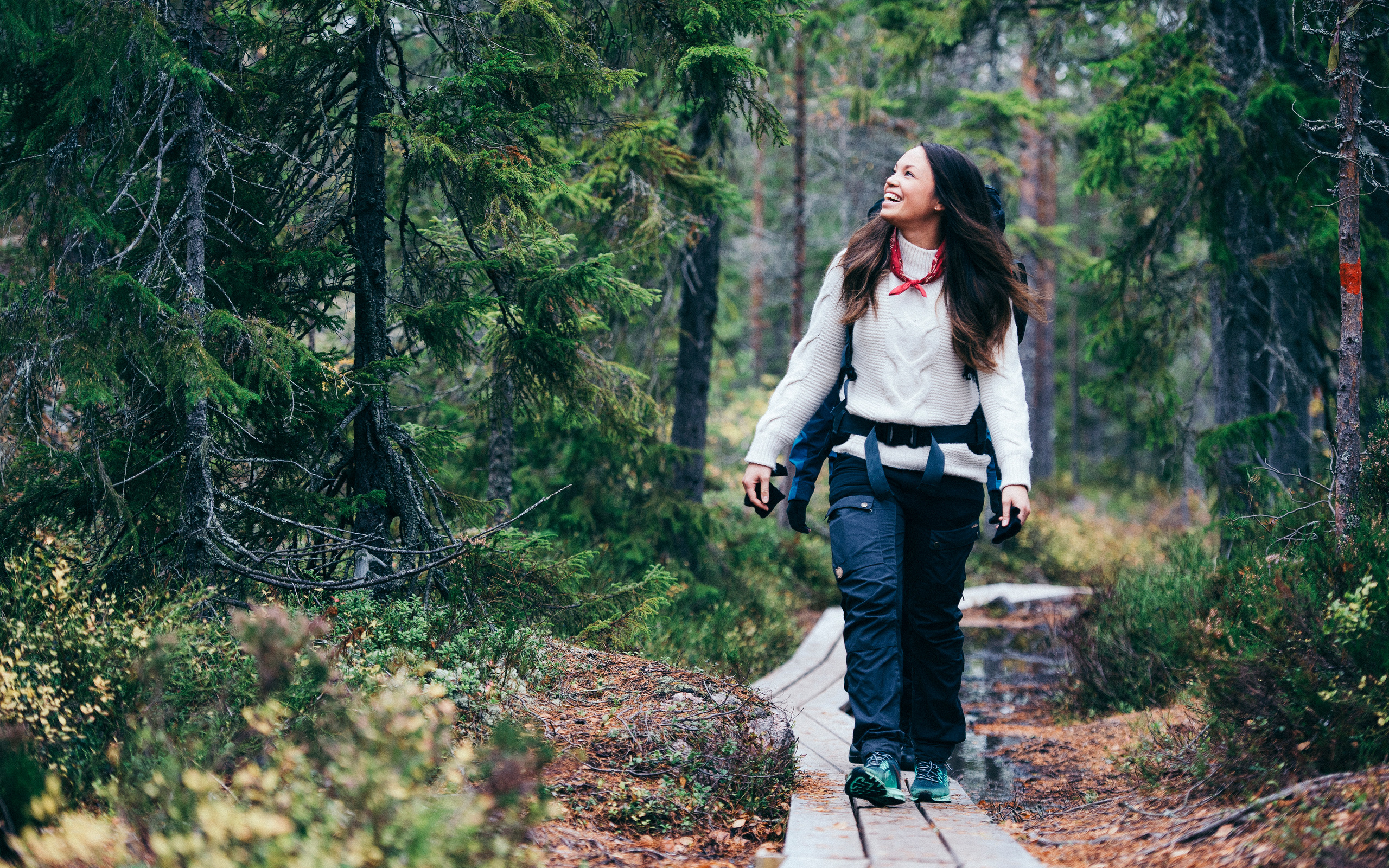 Entrances
West entrance (Entré Väst)
The west entrance is located in the northwest corner of the park about 300 meter above sea level. This entrance has a high level of accessibility with a large wooden deck taking you from the parking lot in to the woods a few hundred meters. A wide path leads to a viewpoint about 800 meters from the parking lot. The path is accessible with wheelchairs. You can continue on foot further into the park from here.
South entrance (Entré Syd)
At the south entrance you can sit down and enjoy a beautiful view of the sea. The High Coast Trail passes here. From here you can do a short detour to a small bay called Kälsviken, a popular place for swimming in the summer. The south entrance is the only one open during winter time.
North entrance (Entré Nord)
From the parking lot, a 70 meter long path leads to the entrance. Here you'll find a seating ground, fireplace and visitor information situated inbetween high and lush forests.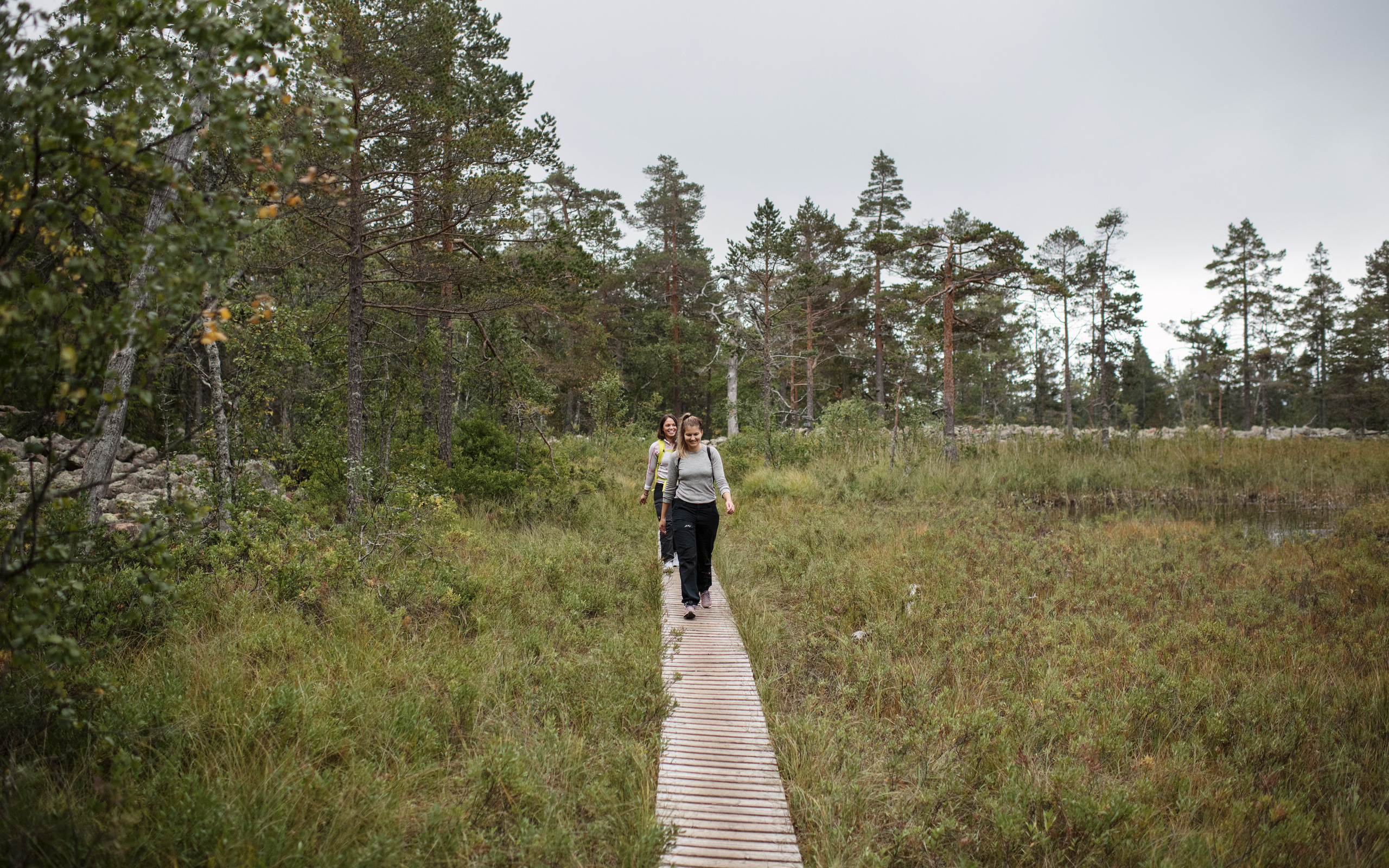 Upplevelser
Från någon av de tre entréerna i syd, nord och väst når du ca 3 mil med vandringsleder och en mängd intressanta platser och sevärdheter. Den södra entrén är utan tvekan den mest använda. Härifrån är det nära till Skuleskogens allra största sevärdhet, Slåttdalsskrevan. Men det finns andra vägar. Från västra entrén är vandringen något längre men med mycket större behållning. Väl framme vid skrevan kan du ta en fikapaus eller ett dopp vid idylliska Tärnättvattnen eller vandra upp till Slåttdalsberget för en av Höga Kustens vackraste utsikter. Från södra entrén finns även möjlighet till enklare vandring längs kusten till Näskebodarna eller Tärnättholmarna.
Slåttdalsberget
Slåttdalsberget består av nordingrågranit och är i de övre delarna mer eller mindre helt trädlöst. Efter isens avsmältning var berget en period ett stort grund strax under havsytan. Härifrån bjuds du på en vacker utsikt över hav och skog.
Slåttdalsskrevan
Slåttdalsberget delas i den norra delen av den cirka 200 meter långa och 30-40 meter djupa Slåttdalsskrevan. En magisk plats i Skuleskogen som bara måste upplevas. Där skrevan nu gapar tom bildades för 1200 miljoner år sedan en diabasgång. Flytande magma trängde upp från jordens inre och stelnade. Den mer lättvittrade diabasen har sedan eroderat bort. Flera istider och efterföljande hav och landhöjningsprocesser har med tiden hjälpt till att rensa ur skrevan.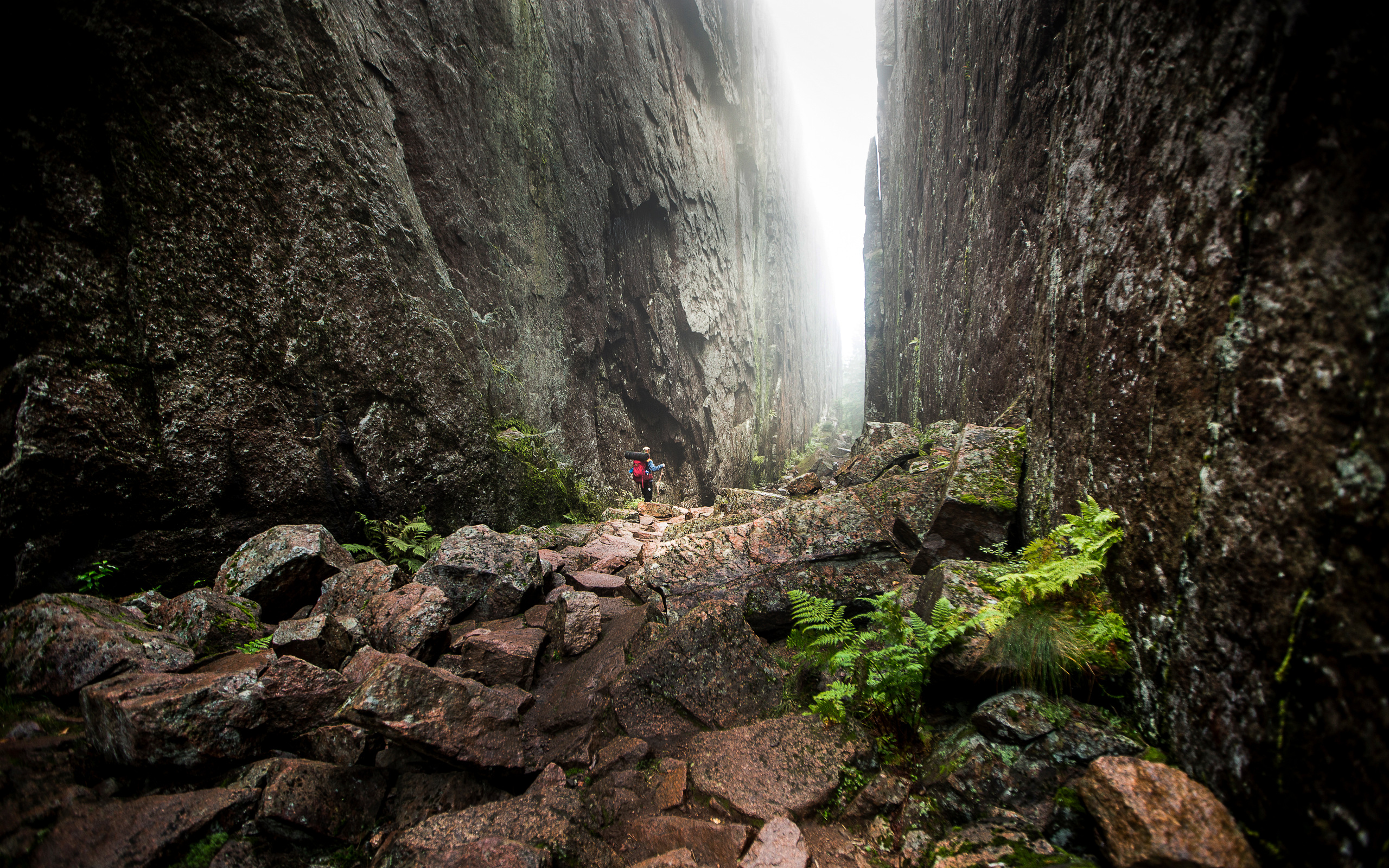 Tärnättholmarna
Vid Tärnättholmarna syns tydliga spår av landhöjningen. De tidigare två holmarna kan nu nås via smala landbryggor av sand. Här ute finns övernattningsstugor att nyttja för vandrade. På utsidan av holmarna finns härliga klippor för sol, bad och strövtåg. Tärnättholmarna ligger 3,5 km från Entré Nord.
Nylandsruten och Långtjärnhällorna
Nylandsruten når du cirka 800 meter från Entré Väst och är ett så kallat kalottberg där bergets översta del aldrig har varit under havsytan efter senaste istiden. Tittar du mot öster ser du ytterligare ett kalottberg. Utsiktsplatsen bjuder på milsvid utsikt i klart väder. Härifrån ser du förutom en stor del av nationalparken även Skags fyr i nordost, naturreservatet Trysunda i öster och Ulvöarna i sydost. Nedanför branten blänker Svarttjärns mörka vattenspegel. Njut!
Cirka 1,2 km från Entré Väst går en slinga runt Långtjärnhällorna. En fin och lättvandrad stig som till största delen går på hällmarker och träspång. Vid bra väderlek bjuder slingan på fantastiska vyer över Höga Kusten och nationalparken.
Näskebodarna
Näskebodarna är en fäbodvall som började användas på mitten av 1800-talet som en utpost för vårens strömmingsfiske. Du når fäbodvallen cirka 3,8 km från Entré Syd och är ett utmärkt mål för en dagsvandring. Här kan du grilla, övernatta i stugan eller tälta på vallen. Respektera intilliggande privata sommarstugor.
Kälsviken
Sandstranden i Kälsviken är populär varma sommardagar. Den ligger cirka 1 km från Entré Syd. Den skyddade viken och det jämna sandunderlaget är idealiskt för tältning.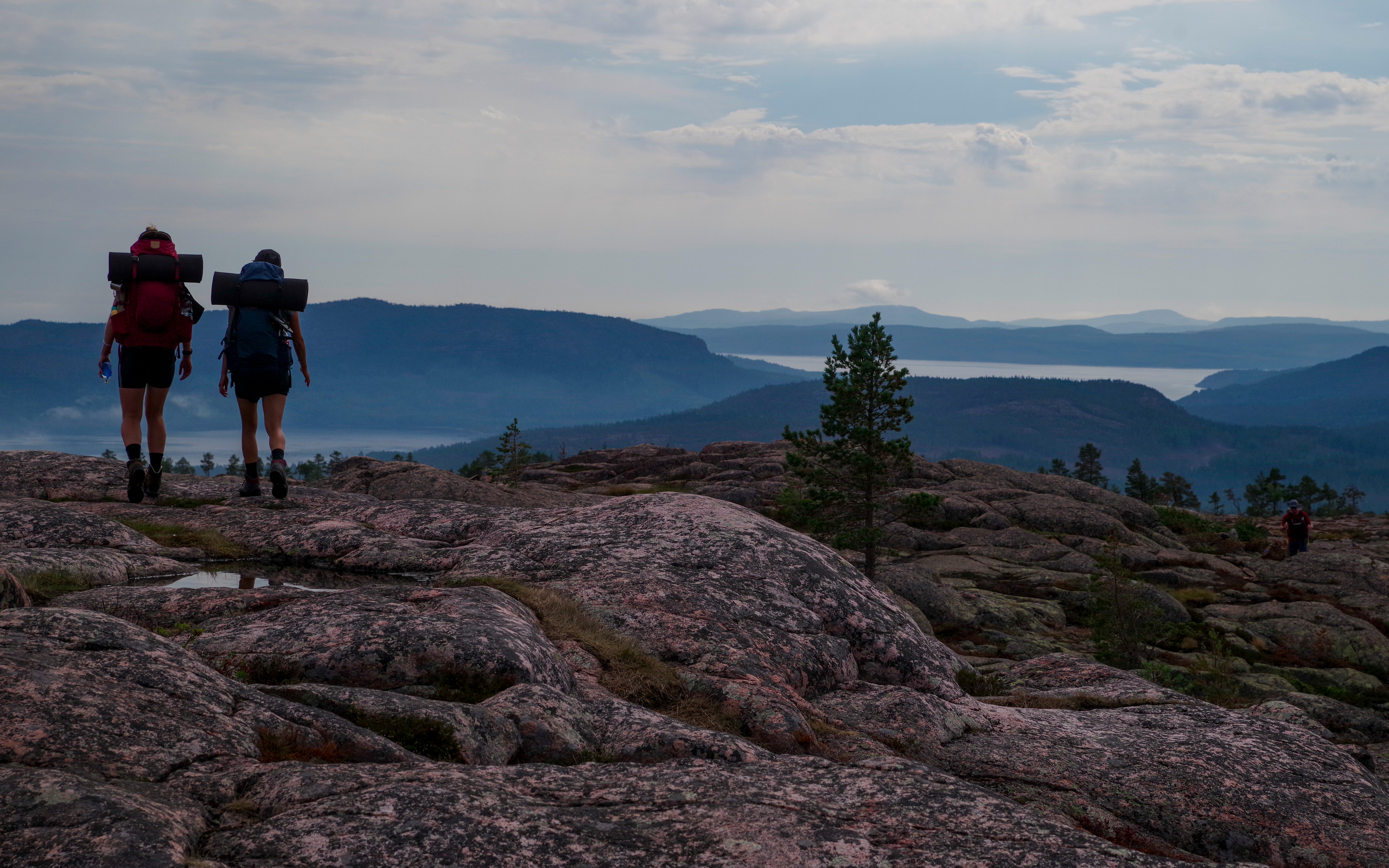 Start off at Naturum Höga Kusten
A good place to start your experience of the national park is at Naturum Höga Kusten near the Skuleberget mountain. Here you can find information about the national park, find answers to your questions and much more. You can also find interesting facts about the nature in the High Coast, exhibitions, activities and more.
Getting here
The national park is located about 40 km south of Örnsköldsvik just outside the small village of Docksta. You can access all three entrances by car from the E4, just follow the signs.
With bus number 50 departing from either Örnsköldsvik in the north or Härnösand in the south you can get to the west entrance. Get of at the bus stop called "Skule Entré Väst E4" and walk the last 1,5 km to the entrance. Timetable can be found at DinTur's website. During summer 2019 you can also go with "Världsarvsbussen" from FriluftsByn or Naturum Höga Kusten to the south entrance. "Världsarvsbussen" is a bus transport that you can use. More information can be found here.