TREKKING
Experience the High Coast's highlights on foot. There are countless hiking trails in the High Coast region – ranging from popular well-known trails to forgotten paths. Here are some of our favourites that together take you past the High Coast World Heritage Site's highlights.
---
Skuleskogen
Skuleskogen National Park is a fantastic place for hiking and adventures. You can hike both short and long stretches and there are plenty of unique places to visit and enjoy at your own pace. The national park has three entrances – the South Entrance, West Entrance and North Entrance. For a truly magnificent hike, you should start at the West Entrance. From here you can look forward to perhaps the most spectacular hiking in the entire High Coast. It isn't the most difficult and it doesn't take you up the highest mountain, but you get to see almost all of the best, most unique attractions in the area in only one or two days of hiking. Deep forests make way for till-capped mountains, typical in this area, with their steep sides covered in wind-stunted pines struggling to survive in the red Nordingrå granite. Stampberget is really beautiful before you get to the steep path down towards Slåttdalen and then along the last bit up to Slåttdalsskrevan canyon. Don't miss the side trail to Slåttdalsberget where you can soak in panoramic views over the coast and Sweden's highest island Mjältön. Afterwards, hike down towards Tärnättvattnen which is the perfect place to spend the night, or continue down to Tärnättholmarna that is right on the water. From here, hike southwards via Näskebodarna to the South Entrance and then back along the river Ävdalsbäcken to the West Entrance. A complete High Coast experience in less than two days!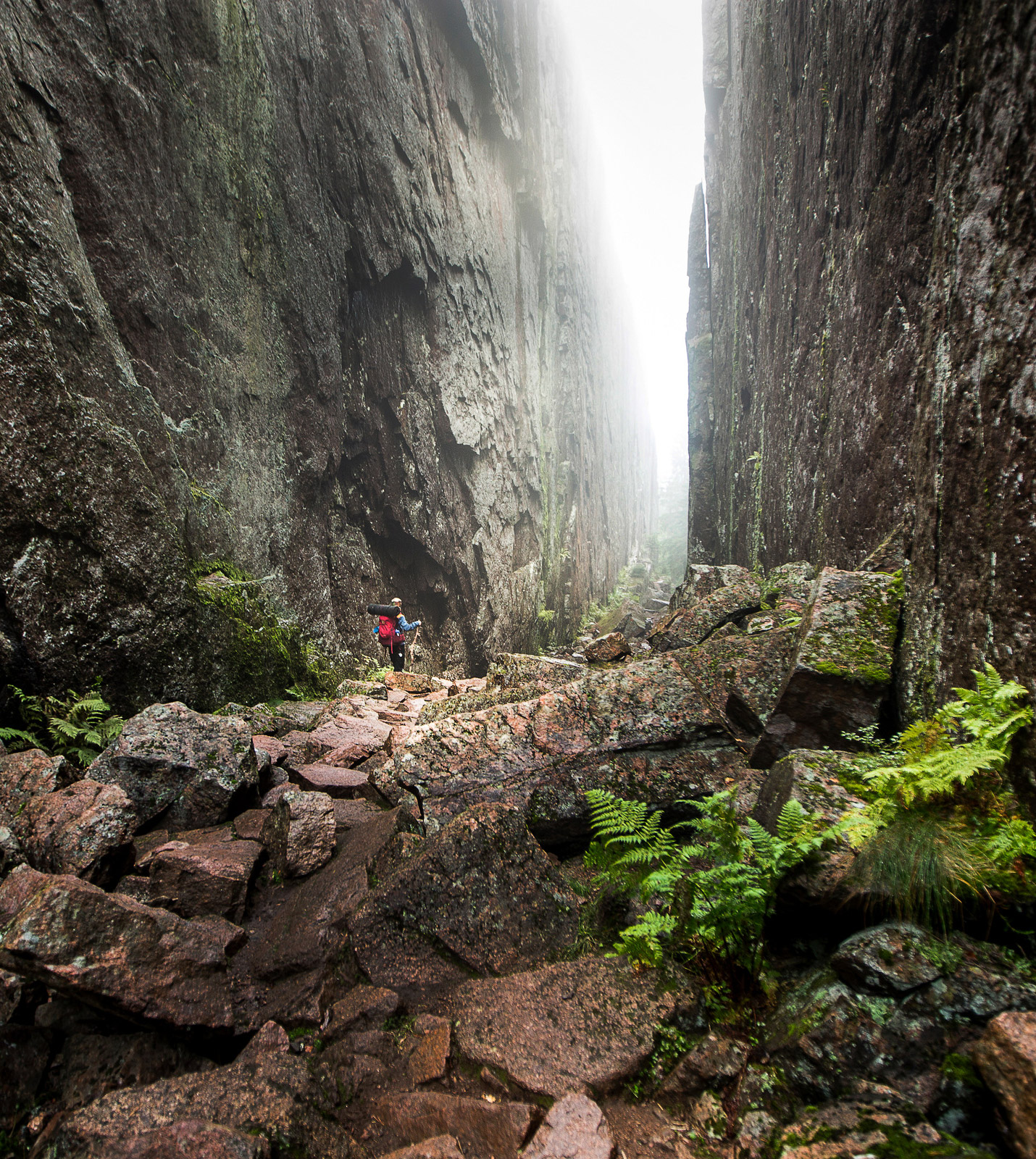 The Nipleden Trail
The Nipleden Trail is a true gem among all the hiking trails in the High Coast. It starts at Sollefteå Camping at Risön in central Sollefteå and makes its way upstream along the beautiful Ångermanälven river to Edsbron, where it crosses the river and follows it downstream to the starting point. It is the river's impressive sandbanks that give the trail its name – nipa means sandbank in Swedish – and these are both impressive and exciting to explore. 20,000 years ago, the inland ice started retreating and 10,000 years ago what is today known as Ångermanland was free from the ice sheet. The area around the Nipleden trail was once a sea cove where the glacial melt water flowed out to sea, depositing vast quantities of sand and silt. When the land uplift moved the coast further and further eastwards, the river eroded through the old sediment deposits and created the fascinating 50-metre high sandbanks that you can see today. Large sections of the trail follow the sandbanks and can be steep and narrow. One of the best areas to visit along the trail is Granvågsniporna Nature Reserve where the river Faxälven joins Ångermanälven. Here you will find three fantastic sandbanks – Borgen, Svalnipan and Rödskäggsnipan.
The Arnäsleden Trail
The Arnäsleden Trail is one of the easiest and most family-friendly trails in the High Coast region. Its entire length is over 70 kilometres and it's divided into eight sections. The trail goes in a circle around the Arnäs parish, so you can hike for a couple of days and get back to where you parked your car. Those interested in cultural history will find a lot of interesting things to see and discover along this trail. It is generally easy hiking and doesn't have any really demanding sections. It passes a number of mountains that have great viewpoints, so you should definitely think about taking a side trail or two upwards. The main charm with the Arnäsleden Trail is the feeling of hiking back through time, through old forests, past small villages and old summer grazing farms, beaches, well preserved cultural landscapes and even Sweden's largest tunnel cave, Räckebergskyrkan.
Longer hiking trails
The High Coast Trail is a main artery in the area, stretching itself through the entire High Coast, over high mountains and through untouched nature. The trail is maybe the most popular among hikers, but the World Heritage Trail is an excellent alternative. This relatively new trail will take you past some of the High Coast's most beautiful places such as Rotsidan, Bönhamn, Högklinten and Norrfällsviken. The World Heritage Trail joins the High Coast Trail in Nordingrå so you can easily combine the two trails for a complete hiking experience!
Day hikes in the High Coast
For those of you who don't want to spend an entire summer week on the same trail, there are many shorter trails to explore. Take the chance to go on a fantastic day hike on the High Coast! Here are some tips to start with.

a secret tip!
Fäberget is a "secret" gem that I didn't discover for many years. The mountain might become a popular place to visit now that it is being written about, but some more signposts and parking will need to be put in place. Or it might stay secret, you will have to do some research on the internet to find your way there. Fäberget is perfect for a quick outing. The hike is short and the views from the top are magic. It's an incredible feeling to stand there and see Ullångersfjärden inlet spread out at your feet. You can maybe take a short evening hike here – pack a picnic dinner and enjoy it at the top.
//Magdalena Forsberg
Hiking with a guide
Are you a curious explorer but feel that you are lacking in the knowledge needed to go out on hiking adventurers on your own? Or do you want to make your next hike more interesting by learning more about the area you are hiking through and meeting new people? You might want to hike by day and spend your evenings in comfort with good food and crisp sheets, so you are fully rested for the following day. Regardless of what you prefer, there are guides that will happily accompany you on your High Coast hike.
Take the chance to hike completely without trails or maps with Höga Kusten Walkabout. You'll get outdoors and see places that you'd never find otherwise. Höga Kusten Walkabout creates genuine adventure experiences in trailless terrain.
Kustvandrarna can organise tailor-made hikes of all difficulty levels in the entire High Coast region.
<% categoryById(item).text %>
x
<% geoById(item).text %>
x
<% geoById(item).text %>
x
<% facilityById(item).label %>
x
CBISID: <% cbisID %>
<% categoryById(item).text %>
x
<% formatOccasionDate(occasions.start) %> - <% formatOccasionDate(occasions.end) %>
x