Welcome to the High Coast of Sweden
Welcome to the High Coast of Sweden
A dramatic landscape, in constant change and home to some of Sweden's foremost landmarks. Welcome to an unforgettable adventure.
High Coast Travel Trade planning
Find inspiration and information to help you book more travel to the High Coast. This is a website aimed at the leisure Travel Trade including tour operators, travel agents, coach operators and destination management companies - there's a range of information to enhance existing tours already coming to the High Coast or to help introduce the High Coast into Sweden programmes for the first time.
Shortcuts:
Map  /  About  /  Why choose the High Coast  /  Toolbox  /  Facts  /  Resources
---
Accessible
It's close to the adventure from wherever you are.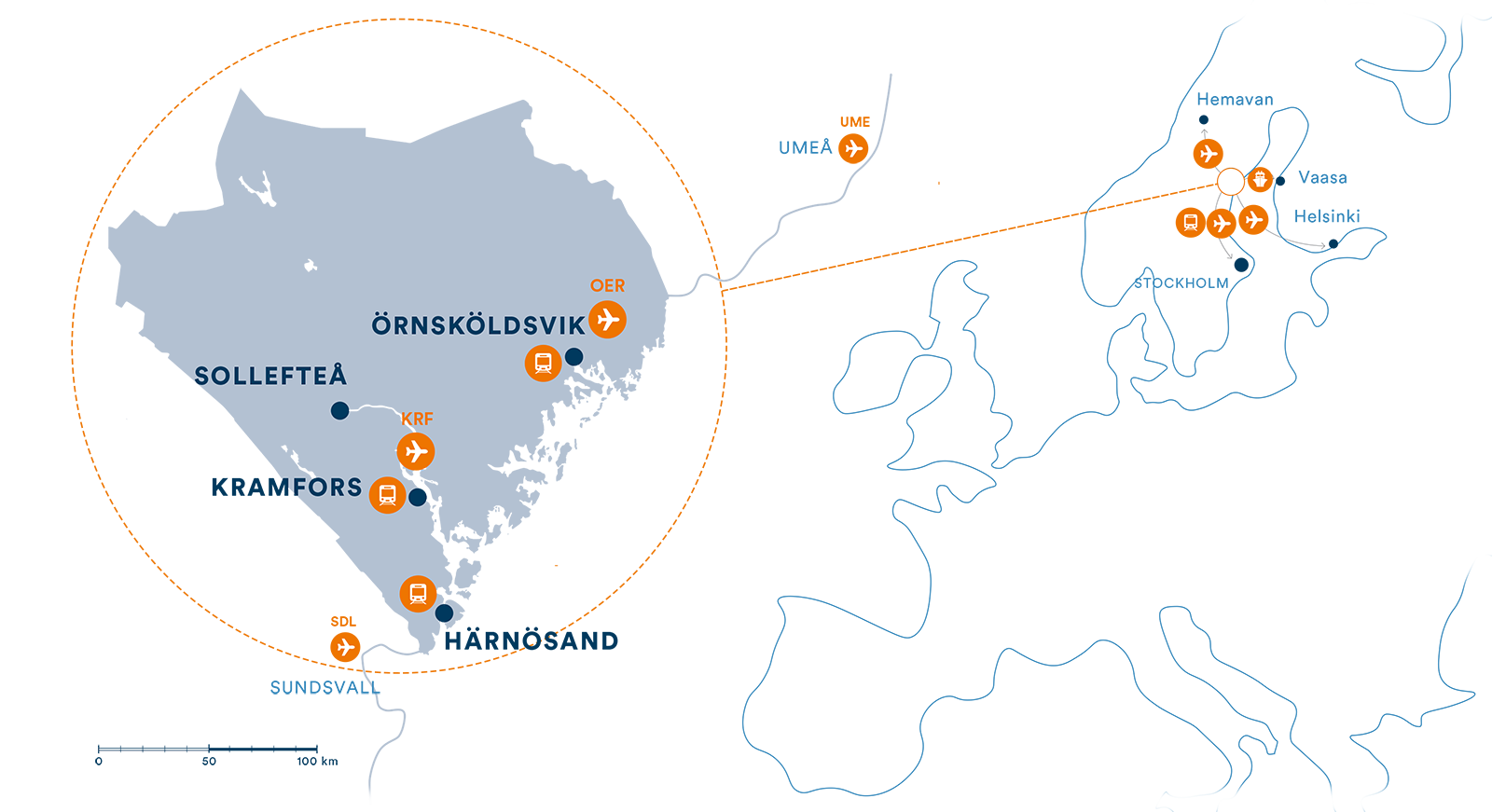 ---
The High Coast in brief
Welcome to the High Coast World Heritage Site.
Appointed as Sweden's most beautiful nature.
In just a short time our destination has become one of Sweden's fastest growing tourist destinations. It feels great! Our hearts beat a little faster here in the High Coast and our aim is for our visitors to also feel what we who live here feel: genuineness, thoughtfulness, pride and friendliness.
Thousands of years of land uplift have led to a dramatic landscape that gives endless opportunities for activities and outings. Expe-riencing the High Coast on foot is fantastic! We have a wide range of hiking trails and viewpoints with panoramas that you will never forget. Few places in Sweden have such varied terrain as the High Coast, and this makes for a great outdoor life. Great fishing can be had in our large number of lakes, streams and rivers and along our coastline. But the High Coast is just as good for those who want to take it easy and just "be". 
There are a lot of us working all year round to make the High Coast  accessible to everyone. Developing good-quality services is an  ongoing job. One example of this is our investment in joint tourism services. Thanks to this, we can now reach you using more channels. With our 40 manned tourist service sites, so-called InfoPoints, and 20 additional service points, we can now reach more visitors by being where they are. 
Don't hesitate to contact us to help you create travel opportunities and profitable trade. We are constantly working on taking the High Coast to the next level.
Some of our highlights
Some of our highlights
Offering you a smörgåsbord of breathtaking natural experiences. See for yourself.
---
Toolbox
The toolbox is a one stop shop for the busy travel professionals to find the tools needed to sell the High Coast as a destination.
Did you know this about Höga Kusten?
The High Coast is home to the world's most dramatic land uplift that has taken place after the inland ice retreated, and this is one of the primary reasons for the area being named a World Heritage Site by UNESCO at the turn of the millennium. The world record has been measured at the top of Skuleberget, where the ancient coastline is presently no less than 286 metres above sea level.
---
Resources
More useful information for your travel trade planning.