The High Coast trail
The High Coast trail
Welcome to hike the High Coast trail through the world heritage site.
Due to covid-19
The cabins along the High Coast Trail and in the Skuleskogen National Park will remain open. But due to the ongoing spread of the corona virus you are advised not to stay overnight. Enjoy daytime tours instead.
Staying in the huts together with others will be a risk for getting infected and help spreading the virus. You might not have cell-phone coverage and if you get ill, you may not be able to get help.
Welcome to the High Coast world heritage site!
The 130 km long High Coast Trail stretches through the entire World Heritage Site that shares its name, starting in Hornöberget in the south and ending in Örnsköldsvik in the north. The trail is divided into 13 sections that are a unique mix of coast and forest with exciting areas rich in flora and fauna along the way. There are numerous activities, side trails and unique nature experiences for you to enjoy: deep forests, high till-capped mountains, rocky shorelines, mountaintop viewpoints, cobble fields, sandy swimming beaches and nature reserves. At times you will find yourself up to 250 metres above sea level. Nowhere else in Sweden can you hike at these heights so close to the sea!
Regardless if you are a beginner or an experienced hiker, there will be sections perfect for you along the trail. We want you to have a fantastic time on the High Coast Trail – take your time and enjoy yourself, you are about to experience some of the World Heritage Site's absolute highlights.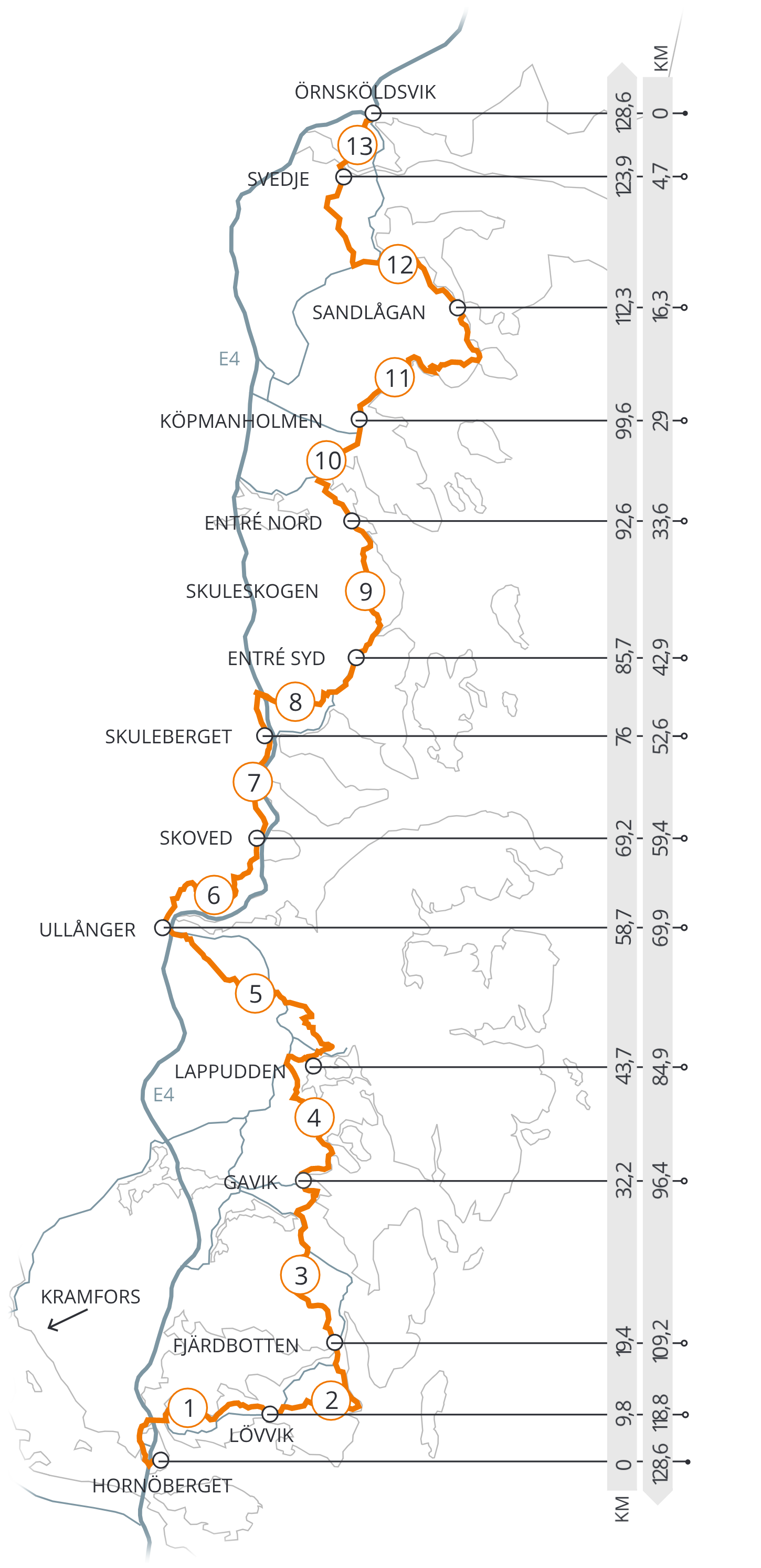 The High Coast Trail is divided into 13 sections with varied length and degree of difficulty. All sections can be hiked in both directions and all sections can be reached by car (and some of them by public transport). If you don't wish to hike the whole trail you can of course hike parts of it. The section 8-10 (Skuleberget to Köpmanholmen) is suitable for that as well as section 1-5 (Hornöberget to Ullånger). Both which offers amazing trail experiences!
At some sections there are really nice detours which you can't miss! For example Valkallen, Fäberget and Skuleberget, three detours well worth the effort!
Below you can see and read more about all 13 sections. You can also see a map of each section.
Things to think about when visiting the trail
How to get to the start? Where to buy a hiking guidebook? How to pack my bag? What should I know about before my hike in the High Coast? Here are some tips for your adventure along the High Coast Trail.
How to get to the High Coast Trail
The High Coast Trail can be hiked in both directions, which means there are two starting points: Hornöberget and Örnsköldsvik. At the start in Hornöberget there is a large car park where you can leave your car free of charge while you are out hiking. You can also get here using public transport. Take bus route 50, which goes between Härnösand and Örnsköldsvik and use the stop Hornöberget E4 – it is about 400 metres from the start of the first section of the High Coast Trail. This bus also stops in Ullånger, Docksta, Skule E4 by Skuleberget and Skule Entré V E4 which is right by the West Entrance to the Skuleskogen National Park. Route 421 between Köpmanholmen and Örnsköldsvik is also popular among hikers. The start in Örnsköldsvik is at Statsträdgården - you can easily get here by bus or train. The Y-bus route 100 stops at Hornöberget, Ullånger and Docksta.
In addition to the car park at Hornöberget, there is free parking at almost every section start including the three entrances to the national park. If you want to start your hike in Örnsköldsvik, there is paid parking available by the travel centre.
GPS-coordinates to the starting point at Hornöberget and in Örnsköldsvik.
Up to date bus time tables can be found at www.dintur.se. For questions regarding the buses, please contact DinTur at +46(0)771-100 110 or [email protected]
Where can I buy a hiking guidebook?
You can order the High Coast Trail hiking guidebook here.
Which section suits me and how long will they take?
The trail sections have been graded according to their difficulty level, so you can easily find a hiking route that suits you. You can also see approximately how long it takes to hike each section. If you want to go on a hike in the area but don't have time to hike the entire trail, sections 8-10 might be a suitable option. This stretch starts at Skuleberget and takes you through Skuleskogen National Park to Köpmanholmen. From there, you can take a bus back to Skuleberget via Örnsköldsvik.
Pack smart
Hiking doesn't require a lot of special equipment, but there are a few things worth thinking about that will help make your experience as enjoyable as possible.
First of all, think about what kind of person you are and what non-essential items you think you won't be able to do without. And then convince yourself that you will be able to cope without them! Hiking is all about being present, living in the here and now, and taking the time to soak in your surroundings. Once you get in the zone, the only things of importance are having comfortable clothing and shoes, that your pack is comfortable to carry, and that you have something to eat and drink when you need to replenish your energy reserves. However, a camera/smart phone is always good to have along so you can document your adventure.
Find your way
Map, compass, waterproof map case, head torch and GPS.
For documentation & spare time
A pen, notebook and a good book.
Staying overnight
Tent, sleeping mat, a small sit pad, sleeping bag, pillow, head torch with extra batteries and a lantern for your tent.
Carrying your load
A backpack has to be comfortable to carry, preferably fitted to its wearer so that it sits well. If you are out on a daytrip or will be sleeping in hostels or hotels, you shouldn't need to pack more than 30 litres of gear. If you are out for the weekend and need to take a tent, sleeping bag and sleeping mat, you should be able to fit everything into a 50-litre pack. Your backpack, sleeping bag and tent shouldn't weight more than 3 kg together, and food and clothing will be added to this. Distribute the weight evenly by placing heavy items against the back. It's a good idea to take a rain cover for your pack, pack bags and hiking poles.
For undesired visitors
Mosquito net/mosquito hat, bug spray, tick remover.
Eating & cooking
Water bottle, camping kitchen (burner and pots), fuel, lighter/matches, knife, cup, cutlery, little wisp, pot handle, washing up liquid, dish brush, freeze-dried food, multi tool, coffee/tea, salt and pepper, energy snacks (e.g. dried fruit and nuts), rubbish bag.
Footwear & socks
Worn-in outdoor training shoes or running shoes are great for daytrips with lighter backpacks. It can be a good idea to use waterproof shoes with Gore-Tex, for example, on wet days. If you are going to hike long stretches and have a heavy backpack, light hiking boots are recommended as they give you more stability and better ankle support. Many hikers prefer to wear two pairs of socks – a thin inner sock and a somewhat thicker outer wool sock – this helps prevent blisters. Sports socks that are shaped to the foot and don't fall down are preferable.
Clothing
Applying the layering principle is a good idea. Your base layer should keep you warm and wick away moisture from the skin (wool or synthetic), the mid layer should wick any moisture further away but keep warmth in (wool or fleece), and the outer layer should protect you from wind and rain as well as keep you warm. Garments to pack might include a long-sleeved base-layer top, a short-sleeved base-layer top, long johns, underwear (briefs, sports bra), woollen socks (thin + thicker), hiking trousers, warm sweater (fleece or wool), airy shirt in functional fabric, hat and/or buff, windproof gloves, rain gear (jacket and pants), waterproof pack bags for underwear, swimming gear.
A stitch in time...
Needle & thread, duct tape, multitool, steel wire, strong thin cord that can double as a tent guy rope, patches for tent and any inflatable mats.
Hygiene & first aid
First aid kit, toothbrush and toothpaste, plasters for blisters, paracetamol, toilet bag, fast-drying towel, toilet paper, soap, sunscreen.
For when you reach civilisation
Wallet, phone, sunglasses, binoculars, waterproof pack bag for electronic devices.
Can I refill water along the High Coast Trail?
There are water taps at the start in Hornöberget, Lövvik (section 2), Lappudden (section 5), Skoved or Docksta (section 7), Skuleberget (section 8) and Näske or Köpmanholmen (section 10). In between these points there are also natural sources of water such as streams and wells. It's recommended to use water filter to clean the water.
Can I refill water in the Skuleskogen National Park?
There are no water taps in the park, nor at the entrances. There are natural water sources scattered around the park. From the south entrance, on the way to Slåttdalsskrevan, many streams are passed along. Skravelbäcken stream, just south of the north entrance often have flowing water all year around. If you're hiking from the west entrance you will pass some streams and small lakes where you might find water. We recommend you to filter the water. During the winter the best thing is to melt snow. If you're sensitive, you can cook the water and filter it.
Things to think about when visiting the High Coast Trail
The Right of Public Access gives visitors to the Swedish countryside the right to roam freely. But with this freedom comes responsibility. "Don't disturb, don't destroy" is the key concept to follow. Please think of the following when you are on the High Coast Trail:
Don't walk over gardens or cultivated land.
Respect animal and bird life, leave nests and young in peace.
Close all gates behind you when hiking through grazing land.
You can swim anywhere other than by houses or where specifically forbidden.
No littering.
Only light campfires in designated places. Put your fire out with care! Avoid lighting campfires when the fire risk is high.
Dogs are welcome along the trail but must be kept on a leash when hiking.
You must have a fishing licence for fishing in lakes and watercourses (streams and rivers). No fishing licence is required for fishing in the sea.
In Skuleskogen National Park you need to follow specific rules and regulations that have been put in place to protect the park's flora and fauna. You may:
not light campfires anywhere other than in designated campfire sites from May 1 – September 30. You may only burn wood that is supplied or that you have carried in with you.
only tent at designated sites and for a maximum of three nights at the same site during the period May 1 – September 30.
only travel by foot in the national park.
not cycle, with the exception of the coastal trail between the South Entrance and the North Entrance.
fish in the sea but not in the rivers and lakes.
have your dog with you but it must be on a leash at all times.
About the High Coast
The region known as the High Coast of Sweden, between Härnösand and Örnsköldsvik, boasts the world's highest coastline and illustrates the unique consequences of land uplift after each Ice Age. The uniqueness of the area led to the High Coast becoming a UNESCO World Heritage Site at the turn of the millennium. The world record has been measured at the top of Skuleberget, where the ancient coastline is presently a total of 286 metres above sea level, and it's still rising. The High Coast is rebounding at a rate of 8mm annually. The area is 1400 km2, of which 800 km 2 is in the Baltic Sea and includes an archipelago with 70 islands. In 2006, the Kvarken Archipelago in Finland was incorporated into the World Heritage Site.
Cabins and accommodations
The High Coast Trail has been divided into 13 sections so that each section has at least one option to stay overnight under a roof – though accommodation ranges from basic cabins to serviced hostels and hotels. There are also simple wind shelters and huts along the way for hikers to use. It doesn't cost anything to stay in these, they can't be booked in advance and you can't refuse other hikers who would like to stay as well. Camping with tents is permitted almost everywhere along the trail, as long as you don't disturb the surroundings. Be aware, however, that once you are in the Skuleskogen National Park, tenting is only permitted in designated areas.
Food & water
At times, it can be difficult to find drinking water, especially in the peak of summer, so plan carefully using your trail map as a guide, it has water sources clearly marked. The quality of available water can also vary somewhat. There are some grocery stores along the way so you can plan ahead where you can replenish your supplies.
Markers
The trail is easy to follow thanks to the numerous orange markers on trees and posts. In addition, there are metal signposts with High Coast Trail symbols where trails cross or fork.
All the sections are well maintained so unless you are unlucky you won't need to get your feet wet at all. Despite this, we still recommend wearing hiking boots or similar sturdy footwear on the trail. Cycling is permitted, but in Skuleskogen National Park you are only allowed to cycle along the coastal trail that passes Näskebodarna.