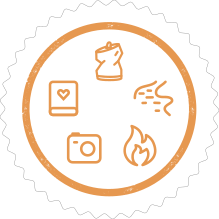 Vårt arv skapades för 10 000 år sedan.
Vi ser till att det håller i minst 10 000 till.
Har du också bestämt dig för att vara en del av lösningen?
Explore the art
The High coast in general and Nordingrå in particular are widely known for their high number of artists. There is no shortage here of art halls, galleries and renowned artists, and visitors are always welcome.
Enjoy outdoor life with hiking
Enjoy some of the top picks of The High Coast by hiking. There are plenty of places to visit and hiking trails to experience if you enjoy the outdoor life.
Visit Ulvön islands this summer
Out here, you have the mainland behind you, and only open sea ahead. You'll find yourself in an incredibly beautiful in-between land, with picturesque fishing villages, untouched nature and spectacular cliffs diving deep into the sea.
travel & planning
Where we're located
The High Coast of Sweden is a large area with a selection that always appeal to somebody. The nature, with its variation from woods and river valleys to the dramatic coastline, offers experiences and meetings with locals that you are late to forget.

architecture & nature
ARKNAT HÖGA KUSTEN
Experience architecture combined with nature on your hiking trip in the High Coast. You'll find these "art works" scattered around the High Coast reminding of traditional shelters. Read more and find all ArkNat-sites here.
travel & planning
Travel to & around
Travelling to the High Coast is convenient and simple with lots of options. Go by air, train or bus. Once here, the country's road provides good access to all regions and to our many great visitor destinations.