Skoved - Skuleberget
About one kilometer's walk from Skoved there is a lovely view over Dockstafjärden. Don't miss it!
Just before the trail reaches Docksta it passes an old church. The white stone church probably dates from the 14th century, the interior was made in the 18th century.
The trail then leads straight through Docksta. Here you will find a wide variety of services. The restaurant Dockstabaren has rooms and cottages to let. Villa Orrbacken, 500 meters from Docksta in the direction of Värns, also takes in lodgers. During the summer you can also travel by passenger boat from Docksta to Ulvön with Höga Kustenbåtarna. Docksta Hotel offers nice rooms and a lovely view over Dockstafjärden.
North of Docksta there is a detour to Norrgällsta, about 1,5 kilometers from the trail. Here you can go by cable way to the peak of the mountain Skuleberget. The restaurant is open during the tourist season. Skulebergets Stugby och Camping and Jacobs Stugor both lie in Norrgällsta.
Another recommended detour leads to Vedåsand, 350 meters from the trail. Sandy beach, excellent for bathing. Outside toilet.
Skuleberget with its spectacular silhouette lies on the border of Skuleskogen. A proof of the prestige is the fact that it is mentioned on the very first maps of Scandinavia. Carl von Linné visited Skuleberget in 1732. The cave has probably been formed by ice and water in ancient times when the sea level reached its highest point (286 meters above the present sea level). The mountain is a nature reserve since 1969. Today the area is an exciting place with cable way, ski slope, Rövarbyn (an activity centre for children), climbing routes (Via Ferrata), adventure trails and much more.
In Naturum Höga Kusten, an experienced-based museum, you can learn about land elevation, geology and life in the area. The people who work here gladly informs you about the High Coast. Restaurants and toilets. There are tables outdoors where you can eat your packed lunch or dinner. Wind shelter and fireplace by Vedån.
Map of the section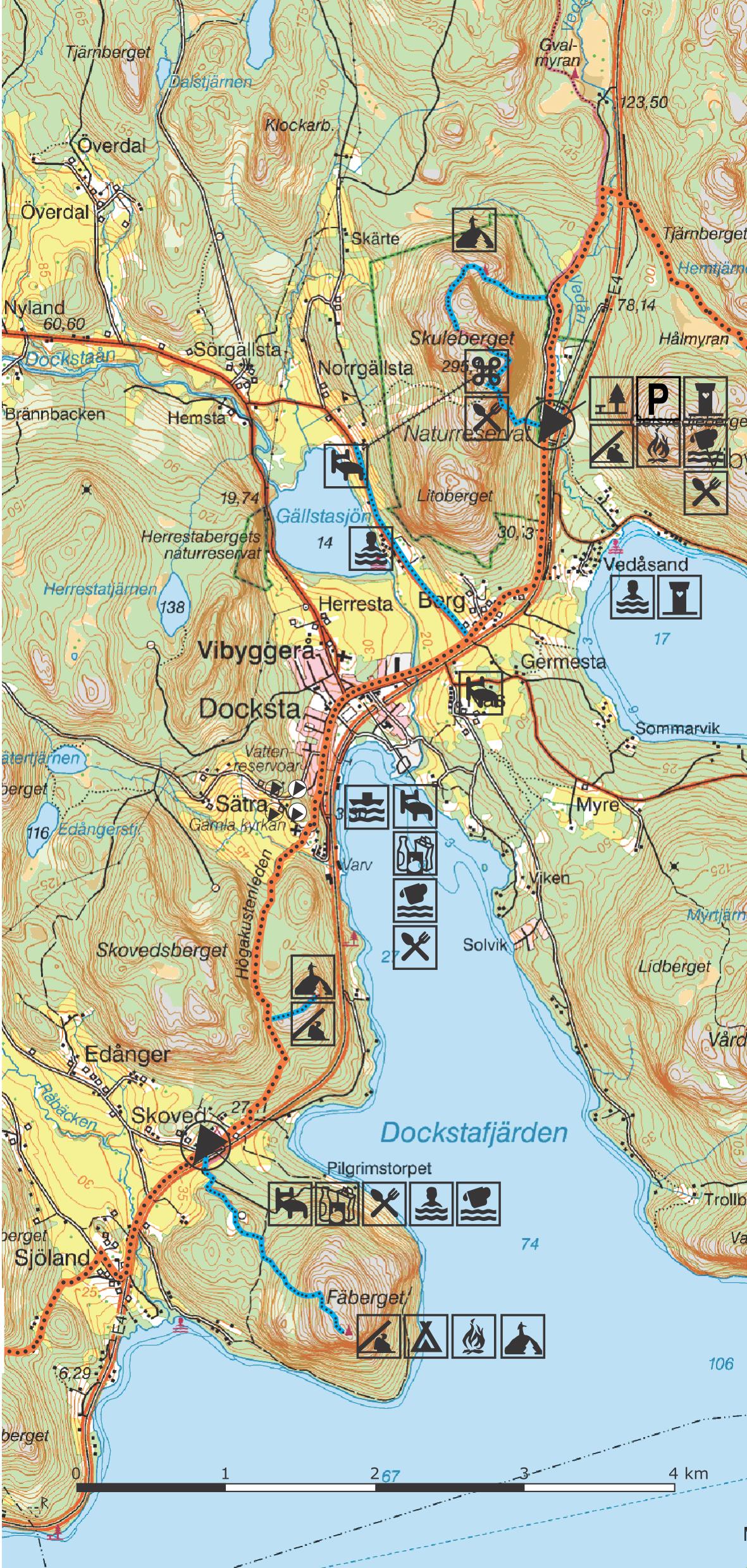 Total length
6,8 km
Difficulty
Normal
Start position
End position
Terrainmap
Lantmäteriet 691
Hiking guide
Can be ordered from here.
Stay along the section
Villa Orrbacken, Docksta Hotell, Friluftsbyn, Jacobs Stugor, Dockstabaren
Activities and sights along the section
Höga Kusten Liften, Via Ferrata, Naturum Höga Kusten, Vibyggerå Gamla Kyrka