Skuleskogens Nationalpark
Skuleskogen was established in 1984 as Swedens 19th national park. The High Coast Trail passes right through the park, a relatively demanding hike due to the large changes in altitude.
Within the park there is a system of 20 kilometers of marked trails (the High Coast Trail is not included), which offer visitors a good choice of walks.
One of Skuleskogens greatest attractions is Slåttdalsskrevan, a 200 metre long, 40 metre deep and 7 metre wide crevice. Simply beautiful and spectacular.
Allemansrätten, i e the Swedish legal right of access to open country, is not valid in the national park. Camping is therefore restricted to special places. If you wish to spend the night in the park, you can always use any of the open cottages.
Kälaviken lies close to the trail. Two wind shelters. Outside toilet and fireplace. Camping is allowed. Beautiful beach. Fresh water can be taken from the streams on the north side of Kälaviken.
Tärnättvattnen are two lakes separated by a swamp. On the north side of the southern lake there is a cottage open to hikers. It is small but equipped with a stove and four bunk-beds. Outside toilet and fireplace.
Other cottages in the national park:
Skrattabborrtjärnen: NOTE! This cabin has been burnt down and can no longer be used.
Lillrutenstuga: a cottage equipped with wood stove and beds. Outside toilet. Water from stream.
Näskebodarna: summer farm with private cottages. Hundred metres from the summer farm there is an open cabin with wood stove and four beds. Camping is allowed. Outside toilet. Water can be taken from the stream.
Tärnättholmarna: a nice cottage with six beds and a stove. Table and benches. Outside toilet. Outside fireplace. Camping allowed. Water can be taken from a creek on the mainland about 400 metres northwest of the cabin. On the outer islet there is a simple cabin with stove.
On the mainland of Tärnättsundet there is a cottage with four beds. Wood stove and outside fireplace. The cottage is not fit for winter habitation. Water can be taken from a stream.
The destination for this section is Entré Nord (northern entrance to the National park). Table and benches, outside toilet and facility for waste disposal. Information board.
Map of the section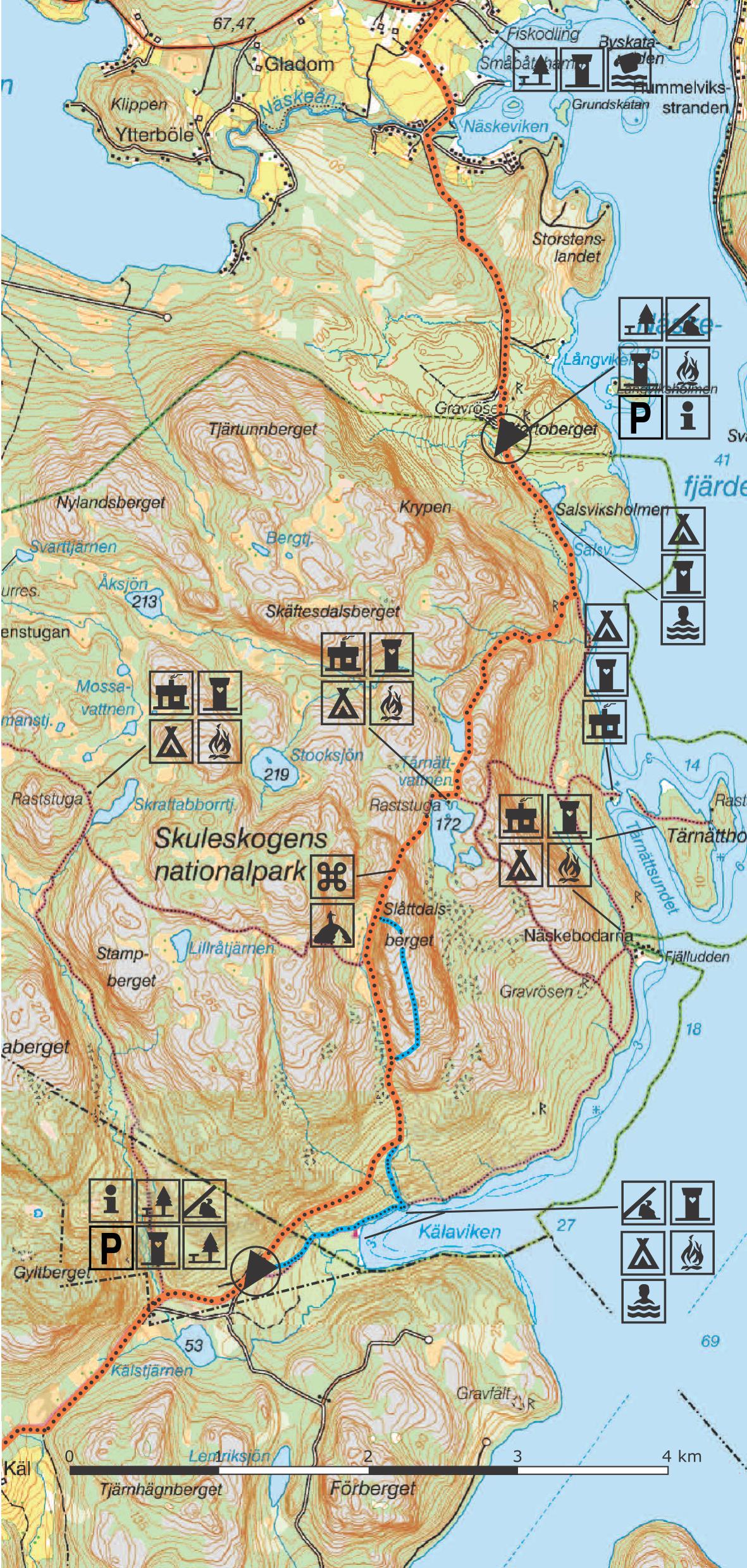 Total length
6,9 km
Difficulty
Demanding
Start position
End position
Terrainmap
Lantmäteriet 699
Hiking guide
Can be ordered from here.
Stay along the section
Stuga vid Tärnättvattnen
Activities and sights along the section
Slåttdalsskrevan