Your official guide to the High Coast of Sweden
travel to & around
WELCOME!
Travelling to the High Coast of Sweden is convenient and simple with lots of options. Go by air, train or bus. Once here, the country's road provides good access to all regions and to our many great visitor destinations.
Läs mer
back on track
Train
All aboard! Once aboard a train, you can sit back and enjoy your journey and once you arrive you are ready to discover the area of the High Coast of Sweden.
high in the sky
Airplane
Getting here by airplane is the fastest way. Depart from Stockholm and arrive in the middle of the High Coast only 1 hour later at any of the two airports.

You are more than welcome to contact us if you have any concerns before, during or after your arrival in Höga Kusten.
hiking & adventure
MEMORABLE HIKES
The High Coast of Sweden is a place for adventure. Here is Sweden's best outdoor life and this is where memories for life are created. The archipelago, the inland likewise, gives many opportunities for activities and excursions. The Skuleskogen National Park is our heart and The High Coast Trail is an 130 Km artery extending over mountains and through unspoiled nature.
maps & locations
A UNIQUE PLACE
The High Coast of Sweden is a large area with a selection that always appeal to somebody. The nature, with its variation from woods and river valleys to the dramatic coastline, offers experiences and meetings with locals that you are late to forget.
Read more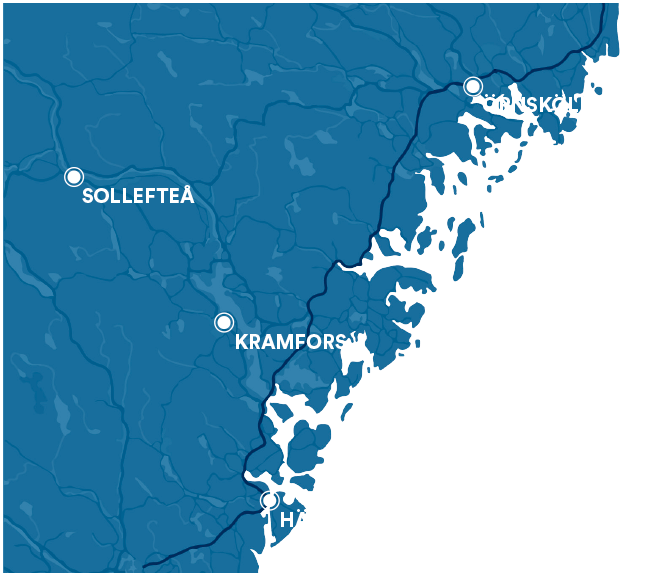 our municipalities
ÖRNSKÖLDSVIK
For those who seek adventure and physically challenging activities there are many options to choose from. The nature varies from coastal areas and rocks, to inland areas and forests. Experience the archipelago by boat or by ferry, or perhaps from the wharf, located only a stone's throw away from the town square.
KRAMFORS
Here you can find - music festivals; the highest island in Sweden; the river boat Ådalen III; the High Coast Bridge; and Box Whisky Destillery. Let's not forget about the archipelago and all its genuine fishing villages. In Ådalen you will find culture and history and in Nora you will find scenic roads and striking lookouts.
SOLLEFTEÅ
Quaint surroundings next to the Ångermanälven river, beautifully captured by mountains and river banks, have attracted people for centuries.
HÄRNÖSAND
Härnösand is rich in culture and history and is located on an island in the southern part of the High Coast archipelago. With its seaside location, unique shops, events, attractions and beautiful nature, Härnösand is a perfect place to experience the High Coast world heritage and other local excursions.
meetings & conferences
Our prestigious, kind presence and friendly reception vouch for successful and creative meetings in the High Coast of Sweden. Whether it's a conference with business colleagues or a weekend with friends, the meetings always offer one of our guaranteed assets; nature, time, tastes, fellowship and cultural heritage. The same applies if it's a bus trip or a training camp where nature is in focus.
The High Coast of Sweden - established 10.000 years ago
5 tips for climbing
Tips // The High Coast
5 tips for climbing
It's no secret that the High Coast of Sweden include many high mountains. Some of these offers some very fine rock climbing for the little more adventureous person. Here are 5 tips for climbing.
5 family friendly tips
Tips // The High Coast
5 family friendly tips
The High Coast of Sweden is not all about nature and outdoor life. Here is also something for the children to enjoy. Here are 5 tips for family friendly activities.