Svedje - Örnsköldsvik
The trail passes Moälven on a sluice gate. The bridge is quite safe, but as the management of Domsjö factories points out on a notice, those using the bdrige do so at their own risk.
The trail leads to Hörnsjön nature reserve, a beautiful recreational area less than a kilometre from the city of Örnsköldsvik. The trail partly follows paths, partly the illuminated ski track. During the winter many skiers come here, there is also a special path for dog owners. There are many picnic places, wind shelters and outside fireplaces around the lake.
From Hörnsjön the trail goes to Örnsköldsvik. If you want to have a perfect view of the city you can choose the detour to Varvsberget. There is a restaurant on the summit, but you can also use the outside fireplace.
The trail goes along the railway and passes the ski jumping hill, Paradiskullen. Finishing point of the trail is the town square.
In Örnsköldsvik you will find lots of exciting things to do and see. There are many different types of sleeping accommodations to choose between, First Hotel Statt, Elite Plaza Hotel och Park Hotell. Those of you who plan to travel by bus or train don't have to worry - the town has a rich flora of public transport.
For more information please contact the tourist information centre in Örnsköldsvik.
Map of the section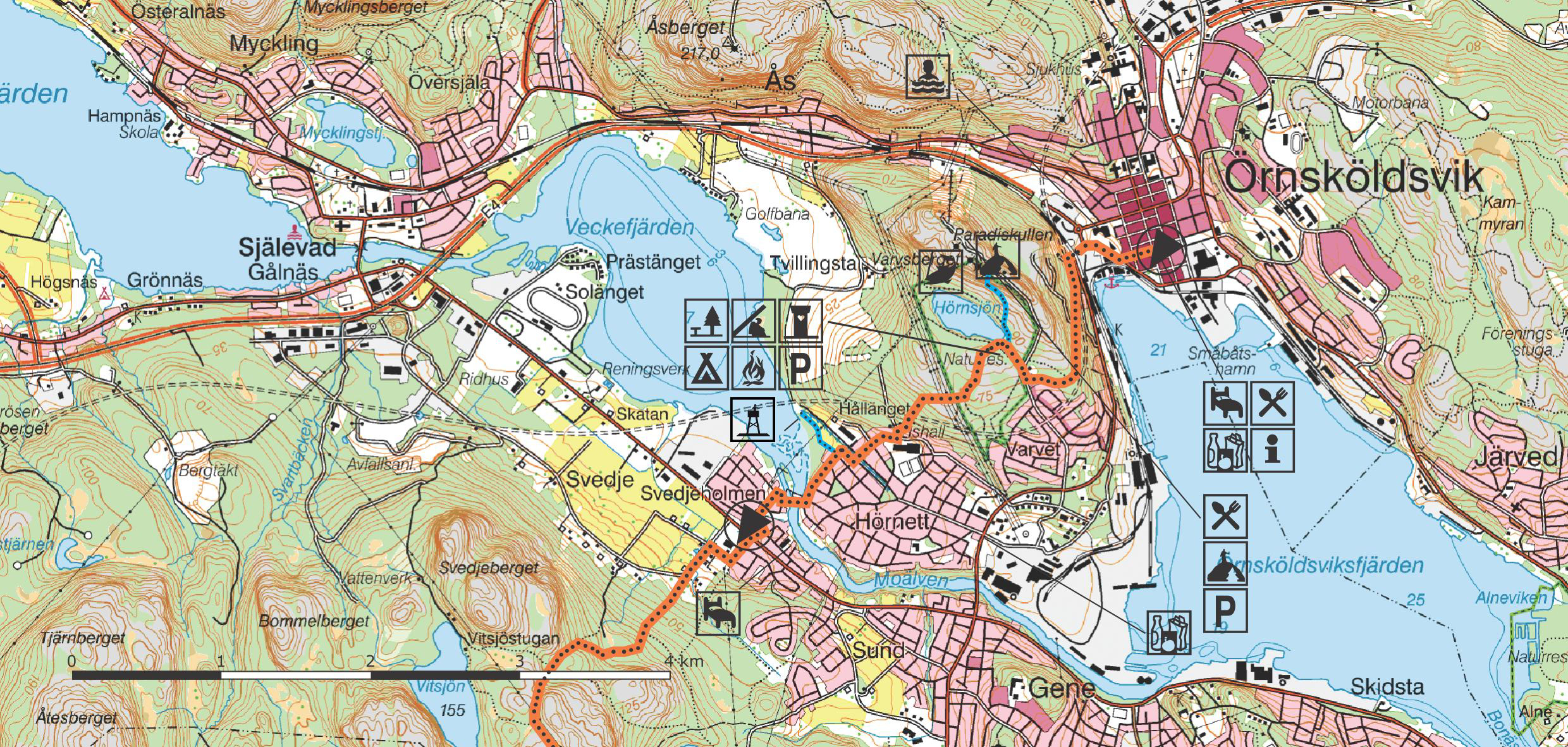 Total length
4,7 km
Difficulty
Easy
Start position
End position
Terrainmap
Lantmäteriet 699
Hiking guide
Can be ordered from here.
Stay along the section
First Hotel Statt, Elite Plaza Hotel, Örnsköldsviks Gästhamn & Vandrarhem, Vindarnas Hus Vandrarhem, Örnsköldsviks Vandrarhem, Hotell Focus
Activities and sights along the section
Hörnsjöns naturreservat, Paradiset