Hornöberget - Lövvik
The southern start of the High Coast Trail . Hornöberget is located directly at the northern end of the High Coast Bridge. From here you have perfect views of the bridge and the Ångerman river. There are good hotels and restaurant opportunities with both Hotel Höga Kusten and Björkuddens Hotel right next to the start of the trail. On Hornöberget, inside Hotel Höga Kusten, there is also a tourist office during the summer.The new E4 route with the High Coast Bridge was inaugurated December 1, 1997 , then as the world's seventh longest suspension bridge.
The first part of the trail follows the old coast road from Hornöberget to Nyadal . Use the bridge to cross Svartnorasundet. This bridge that was built in 1999, before that these roads where conected by ferry.
At the end of the first section, Lövvik, there is an unmanned cabin available for hikers as well as boaters. It is located in the small fishing location Sjöbodviken. The building contains of two separate bedrooms with three beds each , shared kitchen ( electrical stove, fridge, some cooking utensils ), toilet, showers, drinking water and rubbish disposal . The house is open to visitors. Follow the instructions in place for overnight. In Lövvik you also find Lövviks Bed & Breakfast.
Map of the section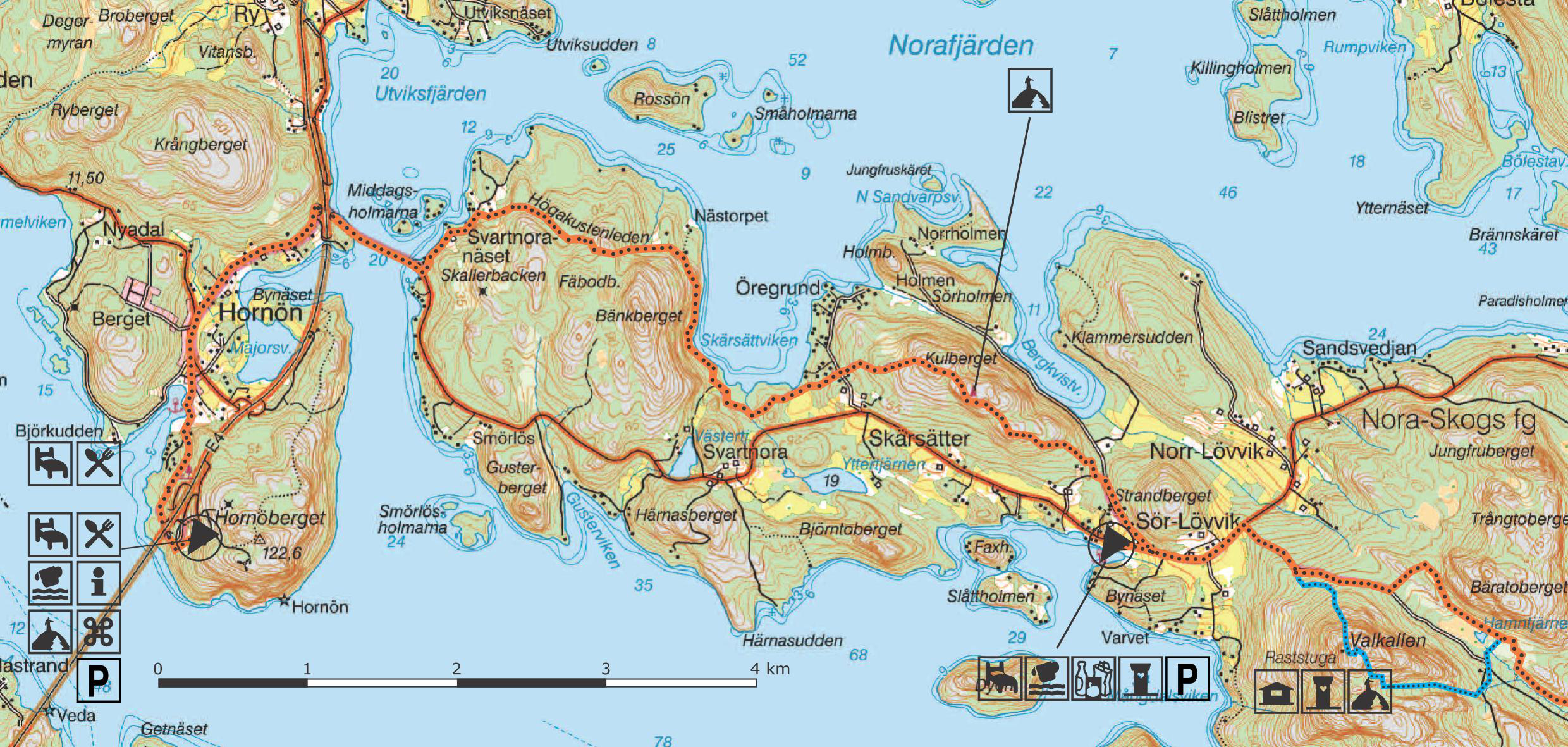 Total length
9,8 km
Difficulty
Demanding
Start position
End position
Terrain map
Lantmäteriet 691
Hiking guide
Can be ordered here.
Stay along the section
Hotell Höga Kusten, Björkuddens Hotell, Lövviks B&B och Lövviks Gästhamn
Activities and sights along the section
Hornöberget